Timeline of Candy
19th century
1854 – First packaged chocolate box appears. It was called Whiteman's Chocolate.
1868 – Richard Cadbury introduced first Valentine's Day box of chocolates to the world. Tradition of gifting chocolates is formed.
1879 – William H. Thompson creates very popular "Thompson Chocolate".
1880s – Wunderle Candy Company creates popular Halloween treat candy corn.
1891 – Doscher Brothers Confections starts working on famous French Chews.
1893 – William Wrigley, Jr. creates Juicy Fruit Chewing Gum and Wrigley's Spearmint Chewing Gum.
1893 – Thomas Richardson introduces Pastel Mints.
1894 – Milton Hershey creates "American" candy bar.
1896 – Leo Hirshfield creates popular candy bar "Tootsie Rolls", also known as "Tootsie".
First half of 20th century
1900 – Milton Hershey introduces very popular Hershey chocolate milk bar.
1901 – Appearance of first King Leo peppermint stick candy. It has managed to remain in production ever since.
1902 – Necco makes first conversation hearts – popular Valentine Day candy with messages printed on them.
1905 – The Squirrel Brand Company of Massachusetts introduces first peanut bar.
1907 – Appearance of first foil-wrapped chocolate.
1912 – Circular Life Savers candy bar introduced. It was initially made only from peppermint taste, but later it received its famous five flavors.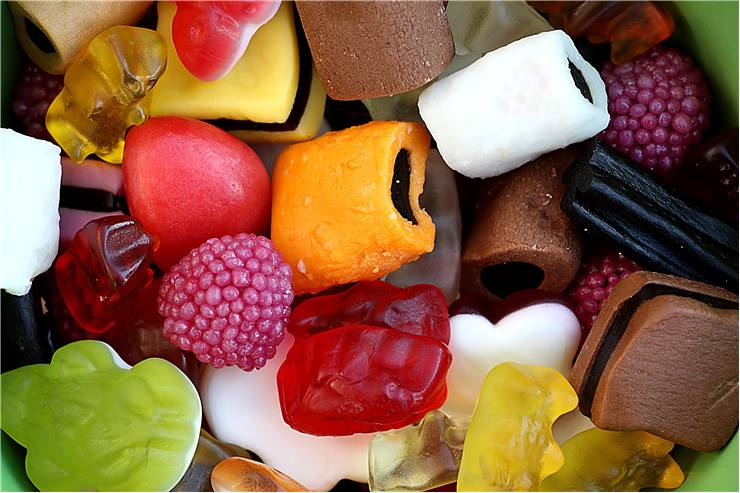 1913 – Goo Goo Clusters – fist bar that combined milk, chocolate, caramel, marshmallow and peanuts.
1920 – Appearance of Baby Ruth candy bar. It was not named by famous baseball player.
1921 – Colorful sugared jelly candies Chuckles appeared in the US.
1922 – Hans Riegel created chewy candy called "dancing bear" – later best known as gummi bears.
1923 – M&M/Mars Milk Way Bar – first candies from popular Mars family.
1928 – Crunchy Heath Bars appeared.
Late 1920s – Butterfingers managed to become second top selling candy of that time (slightly below Babe Ruth bars).
1930 - M&M/Mars introduced the Snickers Bar, one of the most popular modern candies.
1932 – Introduction of 3 musketeers candy - Porthos, Arthor, and D'Artagnan.
1933 – Kraft creates first Caramels.
1938 – Krackel bars came with the almond among its ingredients. Soon creators decided to take it out.
1941 – Six colored M&Ms.
1949 – Junior Mints.
1949 – Smarties.
Second half of 20th century
1954 – M&Ms were improved with addition of peanuts.
1960 – Invention of Starburst fruit chews in England.
1963 – Sweet Tarts.
1976 – Old civil war recipe was adapted into Jelly Bellies.
1978 – Reese's pieces, the favorite candy of the famous Spielberg's alien E.T.
1980 – Gummi candy Bears.
1990 – Conversation valentine harts by NECCO.
1992 – Dove dark chocolate bars.
1991 – Peanut Butter Cups by Resse.
1992 – DOVE Dark Chocolate Bar and DOVE Milk Chocolate Bar by M&M Mars.
1993 – Miniature Hershey's Kisses and Hugs by Hershey.
1994 – Starburst Jelly Beans.
1996 – Heavily minted Zingos by Brown & Haley.
1998 – Hologram Holopops by Light Vision Confections.